BIG WAVES AND BROKEN LEASHES
My family and I recently lived in Puerto Rico. Puerto Rico is a beautiful island and happens to have some pretty good surfing, too.
The winter season brings strong swells from the North Atlantic Ocean. These swells travel unhindered to the north and west sides of the island. Something unique about "la Isla Encantada" is that the second-deepest underwater trench in the world sits right off its northern coast. This means nothing slows down the marching of big surf. This, as a surfer knows, produces much stoke.
On extra-large wave days, when the surf is too big for most of the island, a reef comes to life in the coastal town of Aguadilla. Waves reel into the bay, usually groomed by offshore winds, and break for several hundred yards to shore.
Towards the end of our first winter there, an especially large eight-to twelve-foot northwest swell was lighting up the coast. My oldest son and I paddled out on one of these days. The conditions were right out of a dream: sunny, light winds, tropical water, and long rides to shore. However, I had one problem that I was not yet aware of: my leash was weak and would not stand the pressure of these larger waves.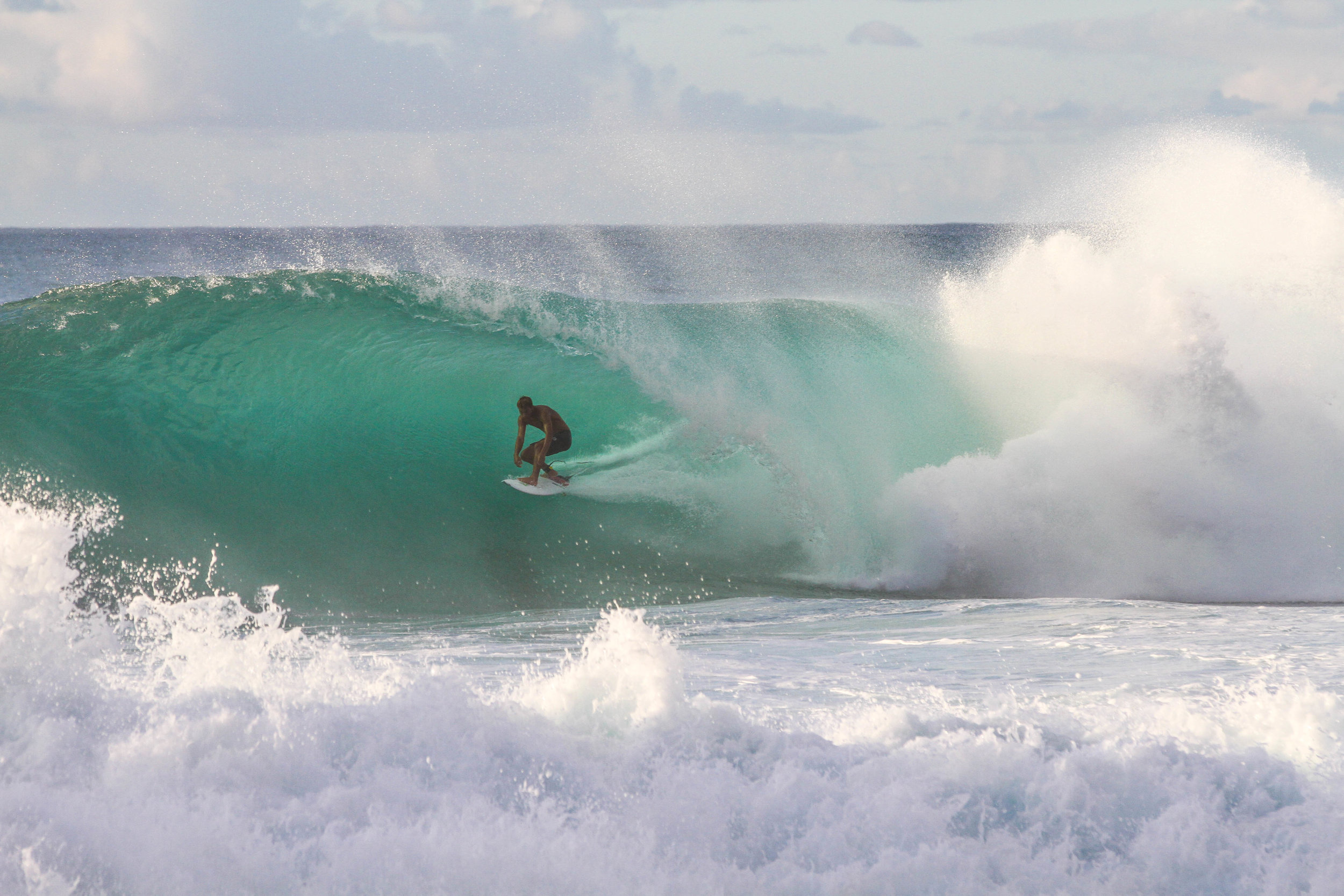 We had an amazing surf session. As the sun went down, I kept saying what every surfer says when they need to go in to the beach, "Just one more good wave. Then I'll go in. It's so good out here, just one more..." Well, after saying this five times, I knew I really needed to get going! I spotted a solid set wave, paddled deep, and dropped in one of my biggest waves that day.
As I stood and raced down the line, I bottom-turned into the pocket (the most critical part of the wave). Unfortunately, another surfer was caught out of position and I had to turn to avoid him. Avoiding running this poor guy over meant the wave crashed on the back of my surfboard, throwing me head first into the Caribbean Sea and pushing me a good ten feet down into the reef. After feeling like I was in a washing machine for far too long, I surfaced to notice my leash had broken.
I watched helplessly as my surfboard was pushed into the rocks onshore, breaking the fins, and dinging it beyond repair.
A surfboard leash keeps the surfer connected to the surfboard. If my leash had not broken, my surfboard would have remained connected to me. If my leash had not broken, my surfboard would not have been smashed on the rocks. If my leash had not broken, I would have avoided a 400-yard swim to shore!
Like a leash to a surfboard, the Bible keeps us connected to God and to one another. The Bible is a book of rock-solid wisdom that addresses how we can grow in our relationships. Studying the Bible, especially with others, is key in growing in our relationship with God and our friends.
In Luke 10:25-27, an attorney asked Jesus a question for which we would all like an answer. "And behold, a lawyer stood up to put him to the test, saying, "Teacher, what shall I do to inherit eternal life?" He said to him, "What is written in the Law? How do you read it?" And he answered, "You shall love the Lord your God with all your heart and with all your soul and with all your strength and with all your mind, and your neighbor as yourself."
How can we grow in our understanding of God and have eternal life? How can we love God with all our hearts, souls, strength, and mind? How do we best love our neighbor? Read, study, and memorize the word of God.
In my final year as an undergraduate, I realized I needed one more science course to ful ll the graduation requirements of UC Irvine.I really did not want to mess with my morning surf schedule, so I took a Botany course that met from 11-11:50 a.m. on Mondays, Wednesdays, and Fridays.
It seemed that most Mondays, Wednesdays, and Fridays had very good waves, and I missed that Botany course quite a few times the first half of that academic quarter. The uncrowded and consistent waves were too hard to deny. I mean, how much will it really matter if I didn't study or go to class that often?
It mattered quite a bit, actually.
When I took the mid-term exam halfway into the quarter, I knew little of the material. I failed that test and I failed it in spectacular fashion. I did not know how to respond to the problems in front of me, as I had not studied. How could I know the answers if I had not prepared?
I was a man on a mission the second half of that course. After much personal study and group study with my fellow Botany classmates, I received an A- on the final, barely getting a C for my final grade. Here's my point: When I was not committed to studying and learning the material, I stumbled when I took the test, and I failed miserably.
The more I studied Botany by myself and with my classmates, the better I did on the test. This principle is true in the Christian life. If I am reading, meditating, memorizing, and studying the word of God, I grow in my understanding of how God wants me to live. I still fail at times, but the miracle of God's grace and forgiveness covers my many shortcomings.
For more on this and other topics related to the Christian life check out my new book, Dropping In: Experience the Life You Were Meant to Live. Also, email me (shane.sebastian@cru.org) if you'd like a free chapter of Dropping In. I'll send it to your inbox!